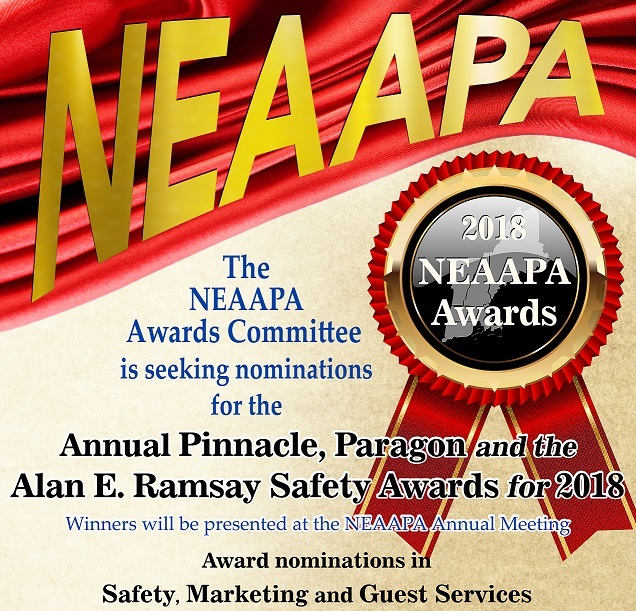 NEAAPA Annual Meeting Awards
The NEAAPA Awards Committee is currently seeking nominations for the Annual Meeting Awards. You can nominate the employee of a NEAAPA member by completing the online application below. Applications can also be downloaded and printed.


If you have questions, please contact committee chair John Guertin at john@guertingraphics.com or 508-754-0200.
All nominations are due by January 31, 2019
Alan E. Ramsay Safety Award

The Alan E. Ramsay Safety Award is presented to an individual that has demonstrated "an unparalleled commitment to safety in the amusement parks and attractions industry." Alan Ramsay, a NEAAPA Past President and Hall of Fame member, was a certified risk evaluator and developed training materials for amusement rides and devices throughout the world. Alan embodied safety in our industry, and this award was created in his honor, as a lasting legacy to his contributions to the industry in New England.


Click here to fill out the online application
Pinnacle Award for Guest Service Excellence

The Pinnacle Award is presented to a student employee that has demonstrated "peak perfection in guest/customer service." Nominees must be enrolled in a college or university program that is tourism/hospitality in nature.

A $500 cash award is also presented to the winner.


Click here to fill out the online application
Paragon Award for Marketing Excellence

The Paragon Award is presented to an attraction member that has created outreach or advertising pieces that demonstrate "unequaled excellence in graphic promotion". This can include brochures, flyers, print advertising, social media promotion, etc.


2017 Winners
Alan E. Ramsay Safety Award: Bill Cormier, Funtown Splashtown USA
Pinnacle Award: Rachel Morrissey, Canobie Lake Park
Paragon Award: Dippin' Dots
---
2016 Winners
Alan E. Ramsay Safety Award: Marie Provost, Six Flags New England
Pinnacle Award: Frank Hamedl, Quassy Amusement & Water Park
Paragon Award: Six Flags New England
---
2015 Winners
Alan E. Ramsay Safety Award: Don Fleck, CLM Entertainment Group
Pinnacle Award: Christopher Smith, Southwick's Zoo
Paragon Award: Funtown Splashtown USA